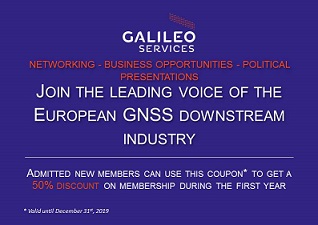 Galileo Services is happy to announce that it is one of the sponsors of the 2019 edition of the Munich Satellite Navigation Summit. Numerous Galileo Services Members will also figure among exhibitors, sponsors and distinguished panellists at various roundtables, covering topics such as PRS, GNSS and smart cities, and the future of global navigation satellites.
During the Summit Galileo Services will launch a special offer campaign allowing new admitted Members to get a 50% discount on the 2019 fees.
If you are interested in joining the association, please contact Aureline Borel, Galileo Services Permanent Representative at
aureline.borel@galileo-services.org.